Schedule your gift today and WIN a Roku TV!
Schedule your online donations for Giving Hearts Day 2020 by making a donation at GivingHeartsDay.org any time from Jan. 6 - Feb. 11, 2020.
Make sure you check "Schedule This Gift" before completing your transaction.
One lucky person will win a 40" Roku TV (value $200) and a free year subscription to PBS Passport where you can watch your favorite PBS and Prairie Public series, including, Downton Abbey, Antiques Roadshow, Austin City Limits, and more!
*Must schedule gift by February 11, 2020. Name will be drawn at 10 a.m. on February 12, 2020.Scheduled gifts will be processed on February 13.
Send us a check
Send Prairie Public a check in the mail. Make sure to date the check February 13, 2020 and "Giving Hearts Day" is indicated in the memo line.
207 5th St N, Fargo, ND 58102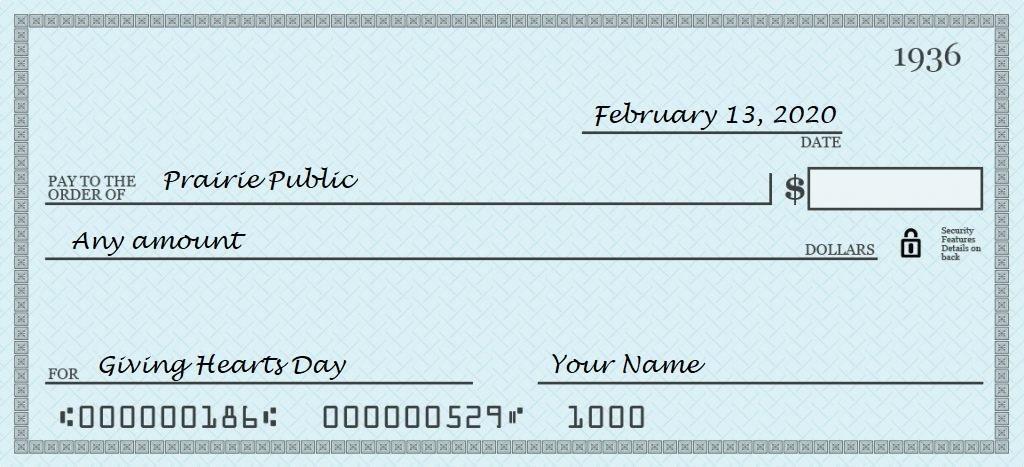 Giving Hearts Day ... February 13, 2020
Giving Hearts Day supports Prairie Public!

Prairie Public's largest and most important source of revenue comes from YOU, our viewers and listeners. We rely on your support to keep programming you know and love on the air. When you donate to Prairie Public on February 13 during Giving Hearts Day, your donation will support the following:
Impartial, in-depth news and public affair programs that keep you in touch with the world around you, including the PBS NewsHour, Washington Week, Morning Edition, and All Things Considered.
Caring, nonviolent programs that provide a safe haven for our kids, teaching them to read, dream, and explore, with Curious George, Sesame Street, Super Why!, and Martha Speaks.
Uplifting, inspiring programs that engage your mind and soothe your soul, including Masterpiece, Antiques Roadshow, TED Radio Hour, Live From Here with Chris Thile, and This American Life.

Your donation of $10 or more will be MATCHED dollar for dollar up to $10,000.

This 24 hour online giving event is co-hosted by Dakota Medical Foundation, Impact Foundation, and Alex Stern Foundation.
During Giving Hearts Day on February 13, 2020, we ask that you donate through the Giving Hearts Day website. If you prefer to use our usual online donation form, please be aware that donations made on that form, though greatly appreciated, will not apply toward this campaign and therefore will not be eligible for additional matching funds and prizes.